Our Plans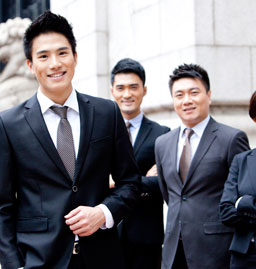 Employee-Oriented
Ping An provides its employees with a harmonious, pleasing environment, attractive remunerations and benefits, clear career plans and extensive room for development, and efficient professional training. Against the backdrop of integrated finance, Ping An tackles the mixed-operation challenges with professional talent management, and realizes mutual benefit among the Company, its clients, and its employees. As at Dec. 31, 2014, Ping An had about 236,000 employees with total remunerations of RMB28.56bn.
Talent Growth

Details

Work in a healthy and safe manner

Details

Employees'rights And Interests

Details

Diversification

An Innovative Environment

Details
Talent Growth:

In 2014, we built a mobile learning platform, Zhi Niao, to help employees improve learning efficiency so as to satisfy employees' need for quick knowledge update against the background of fragmented knowledge and active learning scenarios in an era of the mobile Internet.

As of Dec. 31, 2014, 100% of Ping An's employees had installed the Zhi Niao app with a monthly average activity rate of 63% and a highest monthly activity rate of 100%; 317 courses had been launched on the Zhi Niao app and viewed more than 13.81mn times.

In 2014, we continued to optimize our training, focusing on both face-to-face courses and online training: there were 316 face-to-face courses in Ping An's training programs, in which 60,606 employees were trained and 63.12% of the senior managers and higher-level employees were covered in 2,039 face-to-face courses across China; 184 new online courses were developed, bringing the total to 1,582 online courses; as Ping An continued to encourage employees to engage in online learning, each employee completed 4 online courses on average.

Work in a healthy and safe manner:

Promote employees' physical and mental health:We have organized various activities based on surveys among general staff and line managers to support employees' physical and mental development.

Hug Day:On Aug.18, several subsidiaries carried out the "Hug Me" event to enable expression of care through hugs between line managers and general staff, and increase mutual understanding and communication.

Appointments with senior executives:Several subsidiaries held conferences to enable communication between senior executives and general staff. Cheer Up Station for New Employees: We help new employees to merge into Ping An faster through new employee training plans and mentor plans.

Physical and mental health consultation:Ping An works with external service providers to meet employees' demand for physical and mental health advice through the Mental Health Hotline, onsite consultation, coaching for new employees, emotion workshops, and lectures on different topics.

Employees'rights And Interests :

Remuneration management system:
Under the principle of "fair, justice, open, transparent, and equal for both genders", Ping An's remuneration management is reviewed through a democratic process and open to all employees. Instead of setting a fixed ratio of a subsidiary's standard minimum remuneration to the local minimum wage, Ping An carries out regular research to examine the competitiveness of our employees' remunerations, and increases their disposable income in a reasonable and legitimate manner. We encourage hard working, and have designed a differentiated remuneration system based on individuals' performance and contributions.

Our employees' benefits include: five social insurance plans, one housing provident fund, a comprehensive employee insurance plan, festival bonuses, annual leave, annuities, heating/cooling allowances, annual health checkups, mental consultation service, etc.

In 2014, our total remuneration payment was RMB28.56bn, and our total benefit payment was RMB7.39bn.

An Innovative Environment :

In 2014, Ping An conducted its EAP plan to help employees to keep physical and mental health, think innovatively and actively, and form a positive attitude towards work and life so as to adapt to industry changes and Ping An's fast development. For these purposes, Ping An initiated targeted EAP activitiesinitiated targeted EAP activities such as Hug Day, Appointments with Senior Leaders, Frontline Exchange, and Cheer Up Station for New Employees based on extensive surveys among general staff and line managers.

In 2014, Ping An provided general staff and managers with professional physical and mental health consultation services and management tools from third parties. Special programs including the Mental Health Hotline (which answered 3,015 questions by phone and 820 questions by email in 2014), onsite consultation, coaching for new employees, emotion workshops and lectures on various topics designed for certain groups were widely recognized among employees.